Participant Housing & Logistics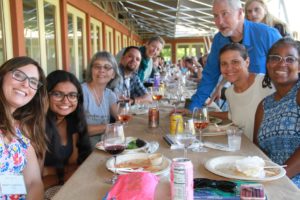 The information below provides some general guidelines for participants; further details are provided in the participant handbook, distributed upon confirmation of attendance. If you'd like to see other or additional information included here, let us know: info@napawritersconference.org.
Housing & Lodging
Participants may request to receive community housing in private homes through our financial assistance application process.
Otherwise, participants are responsible for arranging their own lodging during the conference week.
There are many lodging possibilities in St. Helena, as well as in nearby Napa and Calistoga. It's best to make reservations as soon as you can, since beds tend to fill up during the summer and economical options are limited.
Among the options:
The El Bonita Motel on the outskirts of St. Helena offers good value close to campus.
Several nearby properties offer special rates for conference participants:

The Spanish Villa Inn, a bed and breakfast in the hills just outside St. Helena
The Inn St. Helena, a bed and breakfast in downtown St. Helena
The Oleander House, a bed and breakfast nine miles south of the Upper Valley campus near Yountville
Further resources for finding lodging:
Napa Valley Reservations is a free, locally-owned central reservation service for lodging in the area. The service can match you with lodging that suits your preferences and budget.
StHelena.com, the official tourism site for the city of St. Helena, lists local lodging options. VisitNapaValley.com is the county-wide tourism site, offering lodging listings for the city of Napa and other areas of the Valley.
NapaValley.com is another tourism site offering comprehensive listings for lodging and other amenities.
Airbnb.com and VRBO.com list vacation rentals in the Valley.
To defray lodging costs, consider partnering with another participant to share a double hotel/motel room, or forming a group to consider vacation rental options. You may connect with other participants via our Google Group, to which you'll be invited upon confirmation of attendance.
Travel to the Conference
Participants traveling from out of town should plan to arrive at the Upper Valley Campus in St. Helena by 3:45 p.m. Sunday for check-in and orientation. Activities wrap up by 1:30 p.m. Friday.
Evans Airport Service runs from the San Francisco and Oakland airports to Napa and Yountville. Call (707) 255-1559 for schedules. The shuttle runs north only as far as Yountville, about 10 miles south of St. Helena. Participants can arrange for rides from the airport or the Evans terminal through the participant email discussion group.
Transportation during conference week
Our conference takes place at several venues spread around the Napa Valley, which is rural and not well served by public transportation. Additionally, if you're from out of town, your housing or lodging is likely to be at least a mile from campus. You will spend less time worrying about how to get to and from events and more time benefiting from the conference if you have ready access to wheels.
We strongly recommend that you bring your own vehicle, or consider sharing the costs of a rental with fellow attendees. While we encourage carpooling as much as possible, we don't want a handful of participants to feel put-upon as constant chauffeurs, so we hope the group can find a happy medium where the burden of driving is shared.
You may make carpooling and rental plans with other participants via our Google Group, to which you'll receive an invitation upon confirmation of attendance. If you are traveling to the conference by plane, we urge you to hop online as soon as possible to connect with attendees and coordinate transportation options.
Food
We provide breakfast and lunch on campus. On Sunday night we have an informal reception with light supper, wine and other beverages, and we host a picnic on Thursday.
On the other nights, you can plan to dine anywhere you'd like. The Napa Valley is home to some of the finest restaurants in the country, so plan to splurge at least one night (the participant handbook received upon acceptance includes a list of recommended restaurants). There is a wide variety available, both in expense and cuisine.
Computers
We have Internet-linked PCs at the St. Helena campus and campus-wide free WiFi. Unfortunately, there is no student store at this campus and no other source for computer supplies nearby.
Clothing and weather
The weather in the Napa Valley can vary from the 90s during the day to the 50s at night and early in the morning, so bring a range of clothing. Dress for all events is casual.