Although we can't gather in person this week, we are offering daily online programming to nurture your writing and reading.
Book titles link to Readers' Books, our long-time conference bookseller. Your purchase supports this beloved community resource. Titles from this series are 15% off all week; the discount is applied automatically online, or if ordering by phone  or buying in person, mention the writers' conference to claim it. Shipping and curbside pickup available!
---
Jane Hirshfield | Faculty Poet – 1981 through 2019
Writing Prompt: I've found over the years that a surprisingly high number of the poems I am thrilled and moved by have questions in them, so will offer this simple suggestion: write a poem that begins with a question, or has a question in it, while remembering Richard Hugo's excellent craft point: the only questions worth asking in a poem are the ones that can't be answered.
Latest Work: Ledger
Reading Now:
The Fire Next Time, James Baldwin
"This feels to me THE book for this moment, not least, and searingly, because it has been the book for this moment for the past almost 60 years now."
What Is the Grass: Walt Whitman in My Life, Mark Doty
"Newly out this spring, a gorgeous exploration and conversation."
Collected Poems, Adrienne Rich
"A reminder of just how much Rich's intelligence, passion, compassion, and commitment brought into the lyric poem."
Essential Viewing: "Conversation with Jane Hirshfield & Michael Collier,"  The Writing Life, 2012
Online Writings: "A Poem Is Not a Frontal Assault," interview with Ilya Kaminsky for the Paris Review; "On Writing Poems Facing Into the Broken World," conversation with Kaveh Akbar for American Poetry Review;
"Justice: Four Windows," from the Virginia Quarterly Review
About "Justice: Four Windows": "This essay was written in 2007, for a symposium of world writers hosted by the International Writers Workshop on Paros, Greece. If written today, it might speak with different examples… but perhaps it can be read nonetheless as speaking at least toward the moment we find ourselves in. I never gave it as a talk at Napa or included it in either of my essay books because it's less about poetic craft than about life; but so, in the end, are our poems and our stories."
---
Yiyun Li | Fiction Faculty – 2013, 2016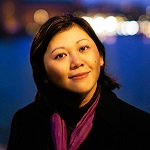 Writing Prompt: Something to start building a character:
Step 1: Write an online dating profile for a character: there is a lot to consider when a person wants to present himself/herself this way; some lies are necessary; some self-delusions perhaps; some manipulation of facts. In a sense, a profile like that is more fiction than nonfiction.
Step 2: Send the character into the real world, either to meet someone by chance, or to meet someone through the dating service, and write a scene of the encounter.
Latest Works: Must I Go and  Dear Friend, from My Life I Write to You in Your Life
Reading Now:
War and Peace, Leo Tolstoy
"I've been reading it with hundreds of people online."
The Corner That Held Them, Sylvia Townsend Warner
"The novel was set in England during the Black Death. I read it right before the pandemic and it offered a perspective"
A Region Not Home, James Alan MacPherson (out of print – click here to buy a used copy)
"The book I go to for a clearer sense of America."
Essential Viewing: "A discussion of War and Peace with Yiyun Li in celebration of Tolstoy Together," A Public Space, 2020
Online Writings: "A Mother Journeys Through Grief Across Finland's Many Islands," New York Times; "Not for the Fainthearted," Paris Review
Q&A: "Yiyun Li on the Distance Necessary for Stories" with Cressida Leyshon, New Yorker, 2019
---
Like the Programming? Please Support Our Work
Even without a physical conference this year, our staff has been on the job, and we anticipate rising costs and increased need for scholarships as we move into planning for 2021 and beyond.
Caffeinate & Donate!
A percentage of sales July 26-31 of the Writers' Conference Blend from the Napa Valley Coffee Roasting Co. will be donated to the conference.